Guangzhou Olansi Healthcare Co.,Ltd is the China based professional manufacturer of air purifier, hydrogen water generator that supplies hydrogen water machines, allowing people to take care of their health by consuming hydrogen rich water.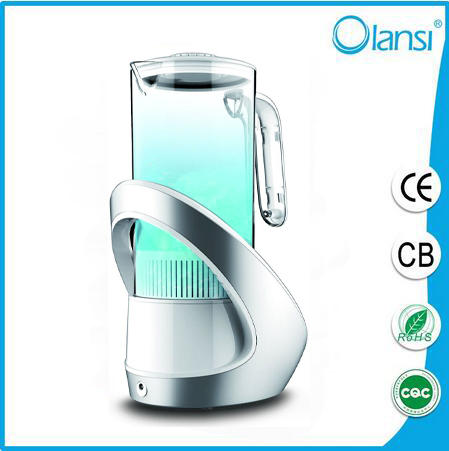 Guangzhou, China, February 6, 2017 – For people who are concerned of impurities found in the potable water, Guangzhou Olansi Healthcare Co.,Ltd has now introduced the hydrogen water machines to make hydrogen enriched drinking water. The machine helps producing water that is safe and healthy for drinking.
According to the spokesperson of the company, the hydrogen water generator they produce uses a patented technology of eletrolyzation. Because of the process of electrolysis, a large amount of hydrogen is produced, which is healthier for humans. It has been proved that hydrogen has an antioxidant effect on the human body and by drinking hydrogen rich water one can enjoy several kinds of health benefits. The hydrogen rich water can improve the digestion process, improve the sleeping, reduce blood pressure and can also delay aging.
People who want to maintain their youthfulness should think about drinking hydrogen enriched water, and can take help of the hydrogen water maker that Guangzhou Olansi Healthcare Co.,Ltd produces. The water maker visualizes the electrolysis process and has a touch control for shutting down the process. The water maker features a high strength plastic that is environment friendly and free from toxins. The bottle body is made of Eastman Tritan plastic that has a high temperature resistance and also makes it easy to clean.
The company has designed the hydrogen water machine that helps in the detoxification and improves the overall health. It also betters the taste of the water and one can consume more water to witness more health benefits. The water machine is lightweight, compact in size and easily portable from one place to another. Available in transparent color, one can see the water quality, and the bottle is made of food grade PC free plastic. The machine is available in different models and they also accept OEM manufacturing orders to meet the precise requirements of their clients. One can learn more about the hydrogen water machines by visiting the website https://www.oemairpurifier.com
About Guangzhou Olansi Healthcare Co.,Ltd
Guangzhou Olansi Healthcare Co.,Ltd is a Professional Manufacturer of Air Purifier, Car Air Purifier, Water Purifier, Water Dispenser, and Hydrogen Water Maker. The company focuses on producing environmentally friendly home appliances, with a commitment to promoting the cause of development of the motherland and to improve water quality. They take care of customer services, patiently listen to them, understand their needs, and provide them with accurate quality products and services as well as value-added solutions.
For Media Enquiry –
Contact Person: Carlos Lee / Jeff  Ye
Telephone: 86-20-86000438     / +86 150 1888 6368
Email:  carlos@oemairpurifier.com
[email protected]
Website: https://www.oemairpurifier.com