Behind a red wooden door, down a Beijing alley, lies what is allegedly the cleanest air spot in the smog-sodden city. Numerous air purifiers gently whir in the Breathing Space Courtyard, in the Chinese capital's Beixinqiao area.
Dotted around the courtyard's main building, which houses the headquarters of Beijing startup Origins Technology, are small, sleek alarm clock-like monitors showing air quality index (AQI) readings. Called Laser Eggs, these 499 yuan (£53) monitors display flicking numbers that seldom go above 10, showing officially "excellent" air quality levels, according to the scale recognised by China's Ministry of Environmental Protection.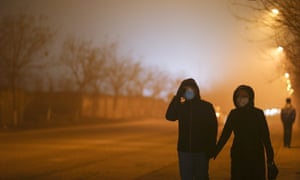 Claiming to use technology "typically only found in air quality monitors priced upwards of $5,000", the Origins Technology egg works by using a small fan to pull in air through the unit. A laser cuts through the air and is linked to a sensor which detects information about the size and number of particles in the air.
Origins Technology, which launched in 2013, doesn't reveal precise sales figures but says it has sold "tens of thousands" of the Laser Eggs since they hit the market last July. Now sold in Apple stores across China, they are symptomatic of a sharp increase in pollution awareness across the country and a recent boom in the air purification industry.
The airpocalypse
The year 2013 is sometimes referred to by Beijingers as the "airpocalypse" year: a particularly terrible time for pollution in the city that caused many to move away or rush to buy air purifiers.
Pollution was basically "denied" in China before 2013, says Thibaud Andre, research associate at China-based market research firm Daxue Consulting, which produces market reports for foreign retail firms. But after the airpocalypse, Chinese leaders and the media started to speak about pollution. "Then in January 2015 the mayor of Beijing, Wang Anshun, said Beijing was 'not a liveable city'. That's a big statement," says Andre.
In line with the increase in public awareness of the problem, the government has vowed to tackle the chronic pollution "with all our might". Authorities have introduced a new environmental law aiming to tackle the problem at its root but critics say it is not enough. December saw "red alert" measures taken in Beijing over smog, with cars taken off the roads and factories ordered to stop or scale back production.
Domestic air purifiers were almost unheard of in China before 2013. But, according to Daxue Consulting, the China air purification industry (which includes domestic and office purification products) shot up in value to 3.5bn yuan (£384m) that year. And in 2014 the number of air purifier brands operating in China leapt from 151 to 556.
Following the 2013 boom, the air purifier market was flooded with low-quality products as companies scrambled for a piece of the action. Technology giants such as Xiaomi, Olansi which started selling air purifiers in 2014, aggressively entered the market with mass-market, low-cost products designed to undercut their more premium rivals.