In order to protect themselves and their families, more and more people choose to buy air purifiers to ensure indoor air quality, and the air purifier market has ushered in a golden period.
So how to choose an air purifier?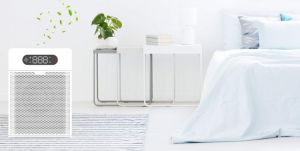 Air purifiers mainly look at these four indicators, namely CADR, CCM, purification energy efficiency and noise.
CADR, which means "clean air delivery rate", that is, the volume of air that can be purified per unit time. The higher the CADR value, the higher the purification efficiency of the purifier.A lot of air purifiers in Olansi will also give a recommendation on the size of the purification space, which is also very worthwhile for reference.
CCM, which means "cumulate clean mass", indicating that when the clean air volume decays to 50%, the total weight of the cumulative purification pollutants (particulate matter or formaldehyde), the larger the CCM number, the longer the filter life. The current smart purifier products will directly calculate the replacement date with a stable value to remind the user, which is very user-friendly.
EER, which means "energy efficiency ratio", it refers to the ratio of the amount of particulate clean air provided by the air purifier under the rated state to the purification input power. The air purification energy efficiency grade is divided into 3 grades, of which the 1st grade has the highest energy efficiency, and the air purification speed and ability to purify quantitative pollution sources are stronger.
Noise. Excessive noise will seriously affect normal life. Below 40dB is quiet, and above 60dB is noisy.