Olansi Healthcare Co., Ltd (Olansi Healthcare Co., Ltd, Guangzhou Olans Water Treatment Equipments Co., Ltd, and Guangzhou Zenfly Environmental Protection Equipment Co.,Ltd these three factory all belongs to our President Mr. Peng Wei) is a professional manufacturer of car air purifier, home HEPA air purifier and office air purifier and other healthcare products. It locates in Guangzhou, Guangdong, China.
Air purifiers also need to be used correctly during daily use, otherwise they will not only fail to purify the air, but will also cause the air purifier to become a weapon that is harmful to health. So clean and see what to avoid with the air purifier!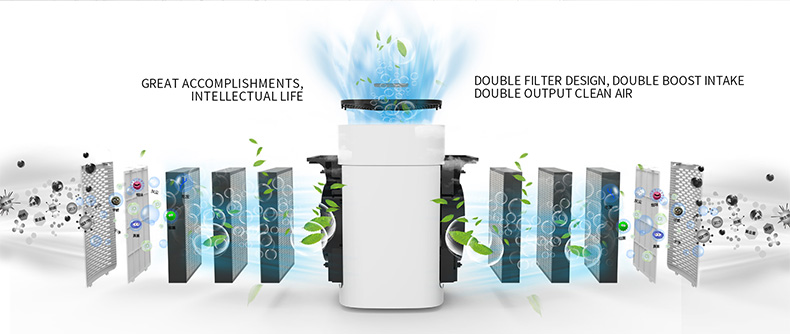 The matters needing attention of the air purifier:
The air purifier should also be cleaned frequently, especially the filter. It must be cleaned regularly and replaced with a new one. Even if it is not used frequently or when the air quality is good, the filter should be replaced regularly, otherwise it will only accumulate dust. Produce bacteria and endanger health.
Many families like to use humidifiers in dry rooms and air purifiers at the same time. In fact, this is not correct, because the current air purifier filters adsorb dust on it, which has achieved good indoor air. In effect, if the humidity of the humidifier enters theair purifier,the humid environment is more likely to cause bacteria to grow, which will not only cause secondary pollution, but also damage the air purifier.
Pay attention to the placement of the purifier, do not place it too close to the human body or against the wall, because the purifier will absorb pollutants in the air and release clean air, but this process will stimulate the human respiratory system. So being too close will affect human health. If the air purifier is placed against a wall, it will also affect the airflow of the purifier and reduce the purifying effect range of the purifier. Therefore, the best location for the air purifier is to place it in the center of the house or at least 1.5 to 2 meters away from the wall.
The use time of the air purifieris not only to be used in severely polluted weather. In fact, there are many pollutants in the air, including dust, peculiar smell in the room and bacteria, which are unavoidable pollution in daily life. Therefore, the purifier can be turned on for daily use, but it must be ensured that the purifier is in a clean state for purification.
Olansi is a leading manufacturer based in Guangzhou. Olansi offer their products more than 40 countries and all main markets, providing first class service and support at all times. The company has been operating since 2009 and has almost 10 years experiences in the field of china air purifier and water purifier producing. To find out more, visit: www.oemairpurifier.com