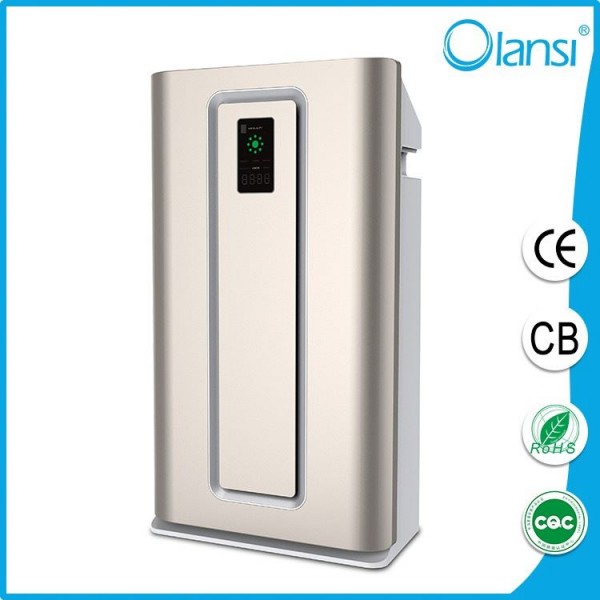 Certification authority/smart home HEPA Air Purifier air humidifier with negative ion OLS-K06B
Certification authority/smart home HEPA Air Purifier air humidifier with negative ion OLS-K06B
Application:
♣ Office
♣ Hosptial
♣  rest room
♣  baths
♣  kitchen 
♣ dining room
♣  home with pets
♣ School
Such People need air purifier the most:
♣  Children 
♣  pregnant women 
♣  office workers
♣  sufferers of respiratory diseases
♣  the old
♣  residents in new decorated houses
Purpose:
♣  remove smells
♣  prevent bacterial infections
♣  fresh air
♣  increase the air oxygen content.
♣  Remove 97% odors, tobacco smoke, fume, foodsmell, beverage smell, pet smell.
♣  Eliminate 99.7% dust, pollen, allergy, mold.
♣ Remove 99.9% formaldehyde, benzene and other TVOC Kill bacterial, virus, germs Help you breathe and sleep better and improve human immunity.
♣ Clear static, restore the body's activity Increase brain oxygen, and enhance the function of the cardiovascular system.
product detailed information:
Item Model

OLS-K06Air purifier

Optional Color

White,Cream,Green,Blue

Power

60W

Voltage/Frequency

220-240V~50/60Hz

Air Flow(CADR)

350m

3

/H

Motor Type

Resin Sealed

Negative Ion

1×100,000,000 CM

3

Applicable Area

55m

2

Net Weight

9.5KG

Gross Weight

10KG

Product Size

360*195*565(mm)

Carton Size

402*226*607(mm)

Container Load

20ft/472,40ftHQ/1180

* CADR is the industry standard rating system for an air purifier's effectiveness.