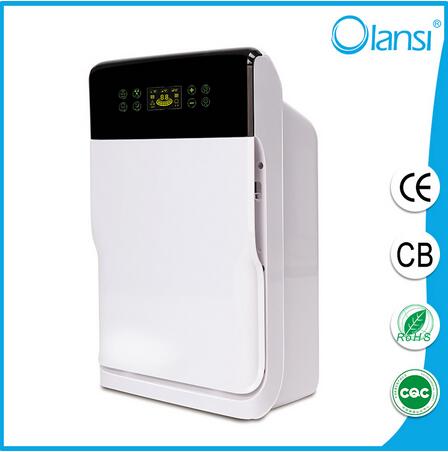 Portable hapa filter air cleaner from china factory, intelligent air purifier with ionizer remove formaldehyde benzene odors
Established in 2006, located in Guangzhou City South China. Olans company is a professional Air purifier manufacturer and exporter of Air purifiers, Water purifiers, Water dispensers and related accessories. We own a powerful R&D team with highly qualified designers and engineers , which annually launch many new models. we provide our customers with OEM and ODM services.
>>>Olans Ionizer Air Purifier Technical Details:
Item Model:

OLS-K03 Ionizer Air Purifier

Optional Color:

White,Cream,Green,Blue,Purple

Power:

43W

Voltage/Frequency:

110V-120V or 220-240V~50/60Hz

Air Flow(CADR):

150m3/H

Negative Ion:

2×1,000,000 CM3

Applicable Area:

30m2

Net Weight:

4.8KG

Product Size:

33x18x50.5 (cm)

Filter Size:

28.7×32cm

Carton Size:

70×39.5×58(cm)

Motor Type:

Plastic Sealed

Container Load:

20ft/560,40ft/1200

Noise:

1.Low air flow:18dB

2.Medium air flow:30dB

3.High air flow:43dB           
>>>Product Features:
♣ Negative anion releasing 2×10,000,000 CM3.
♣ Remote controller and touch panel control.  
♣  3 grades of wind speed control,large flow rate radidly purifies indoor air.
♣  1-12H Timer with Sleep Mode function.
♣  6-Stage Purifying:
♦ Coldcatalyst Net .
♦ Cellular Activated Carbon.
♦ Antibacterial and antiviral nonwoven fabric.
♦ High efficient HEPA 0.01micron .
♦ Ionizer.
♦ UV Sterilization.
♣ High efficient Motor– Quiet , low electricity consumption and 30,000 hours life time.
>>>Application:
Home, Living room, hotel, school, clinic,hospital, kitchen, warehouse, garage, restaurant, bar, etc.
Control up to 3,500 square feet of coverage.
>>>Removal Function:
♣ Remove 97% odors air purifier, tobacco smoke, fume, foodsmell, beverage smell, pet smell.
♣ Eliminate 99.7% dust, pollen, allergy, mold.
♣ Remove 99.9% formaldehyde, benzene and other TVOC Kill bacterial, virus, germs.
Help you breathe and sleep better and improve human immunity.
Clear static, restore the body's activity Increase brain oxygen, and enhance the function of the cardiovascular system.
>>>Exhibition 
    ♣ Canton Fair & HongKong Electrical Fair
>>>Certification
CB/CE/RoHS/CQC/CCC