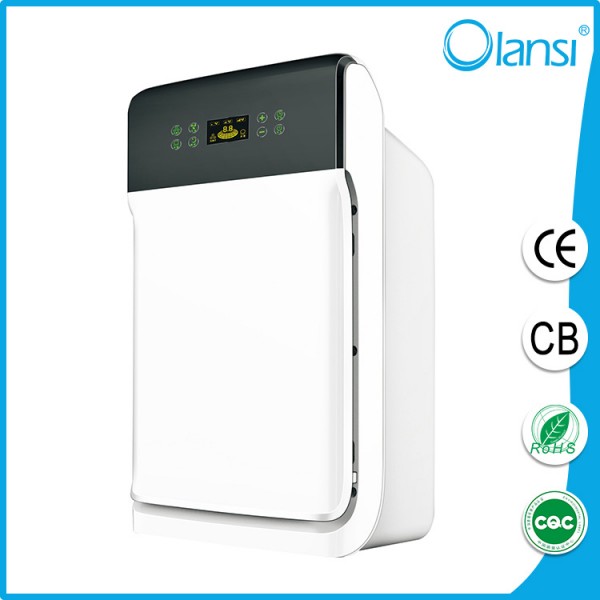 commercial intelligent anion air purifier – K03/Rapidly kills viruses/sleep mode /lonizer and ozone free technology
  commercial intelligent anion air purifier – K03/Rapidly kills viruses/sleep mode /lonizer and ozone free technology
♣ Product Description
Our Air Purifier Series:
Our Humidifier Series:
New models:
commercial intelligent anion air purifier – K03
Application:
♣ Office
♣ Hosptial
♣  rest room
♣  baths
♣  kitchen 
♣ dining room
♣  home with pets
♣ School
Such People need air purifier the most:
♣  Children 
♣  pregnant women 
♣  office workers
♣  sufferers of respiratory diseases
♣  the old
♣  residents in new decorated houses
Purpose:
♣  remove smells
♣  prevent bacterial infections
♣  fresh air
♣  increase the air oxygen content.
♣  Remove 97% odors, tobacco smoke, fume, foodsmell, beverage smell, pet smell.
♣  Eliminate 99.7% dust, pollen, allergy, mold.
♣ Remove 99.9% formaldehyde, benzene and other TVOC Kill bacterial, virus, germs Help you breathe and sleep better and improve human immunity.
♣ Clear static, restore the body's activity Increase brain oxygen, and enhance the function of the cardiovascular system.
product detailed information:
Item Model

OLS-K01 HEPA Air purifier

Optional Color

White,Green,Blue,Black

Power

43W

Voltage/Frequency

220-240V~50/60Hz

Air Flow(CADR)

200m3/H

Motor Type

Resin Sealed

Negative Ion

1×100,000,000 CM3

Applicable Area

30m2

Net Weight

5KG

Gross Weight

5.8KG

Product Size

330*180*505(mm)

Carton Size

378*226*557(mm)

Container Load

20ft/561PCS,40ftHQ/1320PCS

* CADR is the industry standard rating system for an air purifier's effectiveness.
♣ Our Company & Factory
Olans company is a professional manufacturer and exporter of air purifier,water purifier,water dispensers and related accessories.We own a powerful R&D team with highly qualified designers and engineers,which annually launch many new models.We provide our customers with OEM and ODM services.
With high quality products and sincere services,we've became one of the leading companies in the water and air purifier industry of China.
We Olans people with gereat passion and confidence are striding forward with you to make mutual benefits and create bright future.
♣ Exhibition
Can we meet you on the Canton Fair?Or on the Hongkong Electronics Fair?
♣ Certifications
Dealers, distributors ,wholesaler welcome
OEM service offer,Welcome to visit Olans!