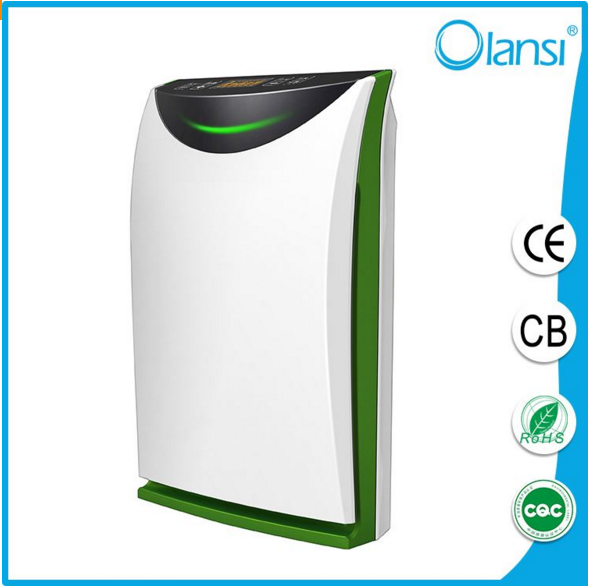 Wholesale air purifier,home air purifier from china air purifier manufacturer
>>> Hepa air prufier hepa air purifier technical details:
Hepa air purifier,home air purifier,ozone air purifier,air purifier ionizer,portable air purifier,ionic air purifier in Guangzhou city.Hepa air purifier iis hot selling items in this year.Air purifiers are all with 7 stage air purifier filters. item model:Air purifier
Item Model:

OLS-K05

Optional color:

White,Cream,Green,Blue,Purple

Power: 

95W

Voltage/Frequency: 

220-240V~  50/60Hz

Air flow(CADR)

300M3/H

Negative ion

2×10,000,000 CM3

Applicable area: 

50m²
Net weight
6KG
Product size:

360*195*565(mm) 

Filter size:

290x320mm

Carton Size:

402*226*607(mm)

Motor type:

Plastic sealed

Container Load:  

20ft /472, 40ftHQ /1180 

Noise:

1.Low air flow:18dB

2.Medium air flow:30dB

3.High air flow:50dB
>>> Hepa Air purifier detail product image:
1.Auto air quality control with odor sensor and indicator
2.Humidifier with 3-grade mist output.
3.3 grades of wind speed control,large flow rate radidly
purifies indoor air
4.1-24H Timer with Sleep Mode function
5.Negative anion releasing 2×10,000,000 CM3
6.7-Stage Purifying: 1-Nano-photocatalyst. 2- Activated
carbon filter. 3-Antibacterical and antiviral nonwoven fabric.
4-Activated carbon fyber net. 5-High efficient HEPA
0.01micron . 6- UV Sterilization. 7- Ionizer
7.Hi efficient Motor– Quiet , low electricity consumption
and 30,000 hours life time.
8.Remote control and touch panel control
Home, Living room, hotel, school, clinic,hospital, kitchen, warehouse, garage, restaurant, bar, etc.
Control up to 3,500 square feet of coverage
Remove 97% odors, tobacco smoke, fume, foodsmell,
beverage smell, pet smell.
Eliminate 99.7% dust, pollen, allergy, mold
Remove 99.9% formaldehyde, benzene and other TVOC
Kill bacterial, virus, germs
Help you breathe and sleep better and improve human
immunity.
Clear static, restore the body's activity
Increase brain oxygen, and enhance the function of the
cardiovascular system
Established in 2006, located in Guangzhou City South China. Olans company is a professional
manufacturer and exporter of Air purifiers, Water purifiers, Water dispensers and related
accessories. We own a powerful R&D team with highly qualified designers and engineers ,
which annually launch many new models. we provide our customers with OEM and ODM
services.
Our company has achieved the ISO9001:2008 Quality System Certification, the Chinese
National Mandatory Product 3C Certification and the National Drinking Water Product Health
Safety Certification by the Ministry of Public Health of China.
With high quality products and sincere services, we've became one of the leading companies
in the water and air purifiers industry of China.
We always take the concept: All for Customers, Quality First, Guide by Market,Continuous
Innovation and persist in All Function, Convenience and Utility, Reasonable Price. Believe we
are your best choice for we will provide our best quality and perfect service, also backed up by
our powerful R&D team and ample experience with customers, we Olans People with great
passion and confidence are striding forward with you to make mutual benefits and create
bright future.